THE WORLD'S BEST PLAYMAKER 2017 :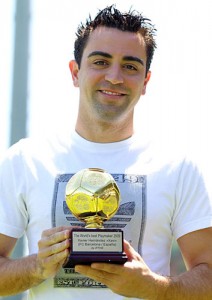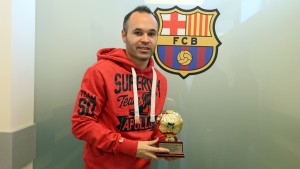 Pictures : After Xavi (4 Trophies) and Andrès Iniesta (2 Trophies), Lionel Messi won 3 Trophies in this category ! FC Barcelona on the top !
ANOTHER WIN FOR MESSI
Five times Ballon d'Or winner Lionel Messi has won for the third year in a row the IFFHS Award of The World's Best Playmaker 2017 !
Football experts in 91 countries from all continents were so impressed again with the performances in 2017 by the 30 years old Argentinian that he finished with a runaway victory of 157 points, 51 points more than last year.
In 2015, Lionel has gained a massive 168 points, in 2016 it was 172 and in 2017, he collected 247 points. German midfielder Toni Kroos (Real Madrid) who won the title in 2014, finished second in the ranking on 90 points with a tie for third on 81 points between Luka Modric (Real Madrid) and Neymar (Barcelona/Paris SG).
Since the beginning of this ranking in 2006, the FC Barcelona has dominated this category with nine Awards (4 for Xavi, 2 for Iniesta, 3 for Messi). Zinedine Zidane (2006), Kaka (2007) and Toni Kroos (2014) won the three other Awards in a category who crowns only the greatest players in the World.
RANKING 2017 :
1 – Lionel MESSI (Argentina/FC Barcelona) 247 points
2 – Toni KROOS (Germany/Real Madrid CF) 90 points
3 – Luka MODRIC (Croatia/Real Madrid CF) 81 points
NEYMAR Junior (Brazil/FC Barcelona/Paris SG) 81 points
5 – Kevin DE BRUYNE (Belgium/Manchester City FC) 53 points
6 – ISCO (Spain/Real Madrid CF) 36 points
7 – Andres INIESTA (Spain/FC Barcelona) 29 points
8 – Philippe COUTINHO (Brazil/FC Liverpool) 17 points
9 – Paolo DYBALA (Argentina/Juventus FC) 16 points
10- Christian ERIKSEN (Denmark/Tottenham Hotspur FC) 14 points
11- Cristiano RONALDO (Portugal/Real Madrid CF) 12 points
12- Paul Labile POGBA (France/Manchester United FC) 9 points
13- Mezut ÖZIL (Germany/Arsenal FC) 6 points
14- Delle ALI (England/Tottenham Hotspur FC) 5 points
15- Eden HAZARD (Belgium/Chelsea FC) 4 points
16- Blaise MATUIDI (France/Paris SG/FC Juventus) 3 points
Henrikh MKHITARYAN (Armenia/Manchester United FC) 3 points
18- Marek HAMSIK (Slovakia/Napoli SSC) 2 points
19- Bernardo SILVA (Portugal/AS Monaco/Manchester City FC) 1 point
David SILVA (Spain/ Manchester City FC) 1 point
THE WORLD'S BEST PLAYMAKER – IFFHS LIST OF WINNERS
| | | |
| --- | --- | --- |
| 2006 | Zinedine Zidane | Real Madrid CF |
| 2007 | Kaka | Milan AC |
| 2008 | Xavi | FC Barcelona |
| 2009 | Xavi | FC Barcelona |
| 2010 | Xavi | FC Barcelona |
| 2011 | Xavi | FC Barcelona |
| 2012 | Andrès Iniesta | FC Barcelona |
| 2013 | Andrès Iniesta | FC Barcelona |
| 2014 | Toni Kroos | FC Bayern München/ Real Madrid CF |
| 2015 | Lionel Messi | FC Barcelona |
| 2016 | Lionel Messi | FC Barcelona |
(Visited 48,719 times, 2 visits today)
138