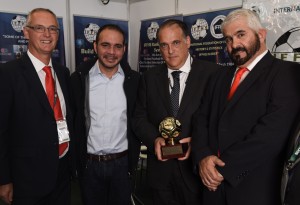 Javier Tebas, the President of LA LIGA, receives the Award 2014 in Manchester from Prinz Ali ben Al Hussein (FIFA Vice President at this moment), Robert Ley and Jassem Al Sayed (IFFHS).
SINCE 2010 !
LA LIGA in Spain is again the Strongest National League in the World in 2017. Since 2010, the Spanish Liga has dominated the ranking established by the IFFHS.
In 1991, the IFFHS created this ranking, considering that the performance level of a league depended on the results from the best teams of each country (only the five best teams are considered ) in national and international competitions. A point system is so applied for each league and is recognized as an objective indicator of the league level.
Since the beginning of this ranking in 1991, Spain (Primera Division – La Liga) has won 12 times, Italy (Serie A) 10 times, England (Premier League) 4 times and Germany (Bundesliga) 1 time.
In 2017, LA LIGA won narrowly ahead of the PREMIER LEAGUE of England, which took again the second place after 4 difficult years.
At the World's third place, the SERIE A of Brazil (place 7 in 2016) is the best league in South America before the PRIMERA A of Colombia and the PRIMERA DIVISION of Argentina.
The SERIE A of Italy (place 8 in 2016) made good progress to take the 4th place ahead of the LIGUE 1 of France, which lost two places. The BUNDESLIGA of Germany dropped to 8th in the World, its worst ranking since 1991.
The DIVISION PROFESIONAL of Paraguay (17 in 2016) recovered the 9th place after 5 years and the PREMIER LEAGUE of Russia jumped 10 places from last year to join the Top 10.
In CONCACAF, la LIGA MX of Mexico was again the best of the Continent (in the World Top 20 since 2000). The MLS of USA regained the second place in the continent after 5 years lapse before Costa Rica, second last year.
In Asia (AFC), the K LEAGUE CLASSIC of Korea Republic leads the ranking of the continent for the 7th year, just before the PRO LEAGUE of Saudi Arabia, second since 2013 and the J1 LEAGUE of Japan, which won 9 places in the ranking (N°40 in 2016).
In Africa (CAF), the LIGUE 1 of Tunisia held his leadership since 2013 ahead of the PREMIER LEAGUE of Egypt, second for the last five years and the PREMIER LEAGUE of Soudan, which has its best ranking in the past five years.
In Oceania (OFC), the LIGUE 1 of Tahiti (111 in the World Ranking) has for the first time become the best of the Continent followed by the PREMIERSHIP of New Zealand (118) and the SUPER LIGUE of New Caledonia (126).
TOP 20 : UEFA 14, CONMEBOL 5 and CONCACAF 1
TOP 50 : UEFA 32, CONMEBOL 7, AFC 5, CAF 5, CONCACAF 1
UEFA TOP 3 : SPAIN – ENGLAND – ITALY
CONMEBOL TOP 3 : BRAZIL – COLOMBIA – ARGENTINA
CAF TOP 3 : TUNISIA – EGYPT – SOUDAN
AFC TOP 3 : KOREA REPUBLIC – SAUDI ARABIA – JAPAN
CONCACAF TOP 3 : MEXICO – USA – COSTA RICA
OCEANIA TOP 3 : TAHITI – NEW ZEALAND – NEW CALEDONIA
WORLD RANKING 2017
TOP 90 (1st January 2017 to 31th DECEMBER 2017)
| | | | | |
| --- | --- | --- | --- | --- |
| Place | 2016 | | | Points |
| 1 | ( 1 ) | Spain | UEFA | 1195 |
| 2 | ( 6 ) | England | UEFA | 1177 |
| 3 | ( 7 ) | Brazil | CONMEBOL | 1134 |
| 4 | ( 8 ) | Italy | UEFA | 950,5 |
| 5 | ( 3 ) | France | UEFA | 938 |
| 6 | ( 2 ) | Colombia | CONMEBOL | 918 |
| 7 | ( 5 ) | Argentina | CONMEBOL | 902 |
| 8 | ( 4 ) | Germany | UEFA | 815 |
| 9 | ( 17 ) | Paraguay | CONMEBOL | 721,5 |
| 10 | ( 20 ) | Russia | UEFA | 689,5 |
| 11 | ( 19 ) | Greece | UEFA | 687 |
| 12 | ( 26 ) | Israel | UEFA | 670,5 |
| 13 | ( 16 ) | Cyprus | UEFA | 652,5 |
| 14 | ( 10 ) | Turkey | UEFA | 650 |
| 15 | ( 25 ) | Denmark | UEFA | 645 |
| 16 | ( 14 ) | Portugal | UEFA | 642,5 |
| 17 | ( 24 ) | Ecuador | CONMEBOL | 640 |
| 18 | ( 12 ) | Austria | UEFA | 625 |
| 19 | ( 21 ) | Croatia | UEFA | 623 |
| 20 | ( 11 ) | Mexico | CONCACAF | 573 |
| 21 | ( 28 ) | Switzerland | UEFA | 569 |
| 22 | ( 13 ) | Netherlands | UEFA | 568 |
| 23 | ( 22 ) | Ukraine | UEFA | 565,5 |
| 24 | ( 23 ) | Tunisia | CAF | 553 |
| 25 | ( 27 ) | Scotland | UEFA | 551,5 |
| 26 | ( 9 ) | Belgium | UEFA | 543 |
| 27 | ( 15 ) | Czech Republic | UEFA | 533,5 |
| 28 | ( 18 ) | Korea Republic | AFC | 528,5 |
| 29 | ( 28 ) | Saudi Arabia | AFC | 526 |
| 30 | ( 30 ) | Roumania | UEFA | 514,5 |
| 31 | ( 40 ) | Japan | AFC | 471,5 |
| 32 | ( 31 ) | Egypt | CAF | 447,5 |
| 33 | ( 38 ) | Bolivia | CONMEBOL | 439 |
| 34 | ( 51 ) | Bulgaria | UEFA | 429,5 |
| 35 | ( 32 ) | Poland | UEFA | 421 |
| 36 | ( 46 ) | Sudan | CAF | 413,5 |
| 37 | ( 54 ) | Sweden | UEFA | 406 |
| 38 | ( 36 ) | China | AFC | 403 |
| | ( 34 ) | Serbia | UEFA | 403 |
| 40 | ( 64 ) | FYR Macedonia | UEFA | 402 |
| 41 | ( 44 ) | Slovenia | UEFA | 396 |
| 42 | ( 50 ) | South Africa | CAF | 391,5 |
| 43 | ( 48 ) | Kazakhstan | UEFA | 390 |
| 44 | ( 40 ) | Morocco | CAF | 389,5 |
| 45 | ( 63 ) | Albania | UEFA | 389 |
| 46 | ( 56 ) | Iran | AFC | 388 |
| 47 | ( 40 ) | Belarus | UEFA | 375 |
| 48 | ( 37 ) | Norway | UEFA | 367 |
| 49 | ( 43 ) | Uruguay | CONMEBOL | 366 |
| 50 | ( 33 ) | Azerbaijan | UEFA | 358 |
| | ( 62 ) | Northern Ireland | UEFA | 358 |
| 52 | ( 75 ) | Lithuania | UEFA | 354,5 |
| | ( 59 ) | USA | CONCACAF | 354,5 |
| 54 | ( 52 ) | Costa Rica | CONCACAF | 340,5 |
| 55 | ( 66 ) | Algeria | CAF | 339 |
| 56 | ( 68 ) | Hungary | UEFA | 331 |
| 57 | ( 57 ) | Slovakia | UEFA | 328 |
| 58 | ( 77 ) | Thailand | AFC | 326,5 |
| 59 | ( 47 ) | United Arab Emirates | AFC | 325 |
| | ( 55 ) | Perù | CONMEBOL | 325 |
| 61 | ( 53 ) | Estonia | UEFA | 319,5 |
| 62 | ( 45 ) | Congo DR | CAF | 319 |
| 63 | ( 69 ) | Nigeria | CAF | 318,5 |
| 64 | ( 38 ) | Republic of Ireland | UEFA | 313 |
| 65 | ( 49 ) | Chile | CONMEBOL | 310 |
| 66 | ( 35 ) | Venezuela | CONMEBOL | 304,5 |
| 67 | ( 65 ) | Moldova | UEFA | 301 |
| 68 | ( 67 ) | Georgia | UEFA | 296,5 |
| 69 | ( 58 ) | Finland | UEFA | 289,5 |
| 70 | ( 78 ) | Uzbekistan | AFC | 287 |
| 71 | ( 60 ) | Qatar | AFC | 286 |
| 72 | ( 70 ) | Angola | CAF | 285 |
| 73 | ( 76 ) | Cameroun | CAF | 276,5 |
| 74 | ( 73 ) | Australia | AFC | 274,5 |
| 75 | ( 61 ) | Guatemala | CONCACAF | 268 |
| 76 | ( 71 ) | Honduras | CONCACAF | 263 |
| 77 | ( 72 ) | Nicaragua | CONCACAF | 256 |
| 78 | ( 81 ) | Zambia | CAF | 240 |
| 79 | ( 79 ) | Iceland | UEFA | 237,5 |
| 80 | ( 73 ) | Latvia | UEFA | 229,5 |
| 81 | ( 80 ) | Mali | CAF | 220,5 |
| 82 | ( 84 ) | Iraq | AFC | 216,25 |
| 83 | ( 116 ) | Syria | AFC | 205,75 |
| 84 | ( 89 ) | El Salvador | CONCACAF | 189 |
| 85 | ( 105 ) | Bosnia and Herzegovina | UEFA | 186 |
| | ( 105 ) | Philippines | AFC | 186 |
| 87 | ( 84 ) | Malta | UEFA | 182,25 |
| 88 | ( 94 ) | Montenegro | UEFA | 175 |
| 89 | ( 86 ) | Congo | CAF | 173,25 |
THE STRONGEST NATIONAL LEAGUE OF THE WORLD
| | |
| --- | --- |
| 1991 | Italy |
| 1992 | Italy |
| 1993 | Italy |
| 1994 | Italy |
| 1995 | Italy |
| 1996 | Italy |
| 1997 | Germany |
| 1998 | Italy |
| 1999 | Italy |
| 2000 | Spain |
| 2001 | Spain |
| 2002 | Spain |
| 2003 | Italy |
| 2004 | Spain |
| 2005 | England |
| 2006 | Italy |
| 2007 | England |
| 2008 | England |
| 2009 | England |
| 2010 | Spain |
| 2011 | Spain |
| 2012 | Spain |
| 2013 | Spain |
| 2014 | Spain |
| 2015 | Spain |
| 2016 | Spain |
(Visited 84,330 times, 50 visits today)
77