---
Posted on Jan 17, 2020 | IFFHS News Category
---
IFFHS AWARDS – THE WORLD'S BEST REFEREE 2014, 2015 : NICOLA RIZZOLI (ITALY)
Presentation
Nicola Rizzoli, born 5 October 1971 in Mirandola, is a former Italian Referee who succeeded to Pier-Luigi Collina, the Legend Referee (1998 to 2003) and Roberto Rosetti (2008) in the Italian History of the IFFHS Awards of THE WORLD'S BEST REFEREE in 2014 and 2015.
Rizzoli began his career as Referee at 27 in the Serie C (1998-2001) before moving in the Serie A+B in 2001. He directed 234 Serie A games between 2002 and 2017, winning 7 consecutive Serie A Referee of the year Awards from 2011 to 2017 !
He was UEFA and FIFA listed from 2007 to 2017. Rizzoli refereed his first UEFA Champions League qualifying match in August 2007 and his first Champions League group stage match on 1 October 2008.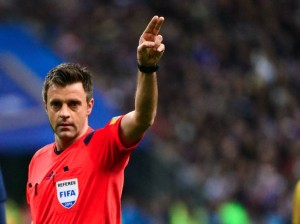 He whistled 49 UEFA Champions League matches in his career, especially the Final 2013 in Wembley between FC Bayern München and Borussia Dortmund. He was selected to referee the UEFA Europa League Final 2010 and in Italy, the Coppa Italia final 2010 and the Supercoppa Italiana final 2011.
He officiated as Referee in the UEFA Euro 2012, the World Cup Qualifiers 2010 and 2014. In 2014, he was Head Referee for the group stage game Spain – Netherlands before being designated for the Final of the World Cup 2014 between Germany and Argentina at the Estadio do Maracana !
He was named by IFFHS as THE WORLD'S BEST REFEREE 2014 and 2015 for his regular performances, ranked each year in the Top 5 from 2010 to 2016 !
In 2017, after 499 matches as Referee at the Top International Level, Nicola Rizzoli retired and was appointed as Head Serie A designator. In 2018, he entered in the Italian Football Hall of Fame !