---
Posted on Jan 24, 2020 | IFFHS News Category
---
Picture : Toni Kroos received the IFFHS Award 2014 in Madrid.
IFFHS AWARDS – THE WORLD'S BEST PLAYMAKER 2014 : TONI KROOS (GERMANY/FC BAYERN MÜNCHEN/REAL MADRID CF)
PRESENTATION
Toni Kroos, born 4 January 1990 in Greifswald, is currently one of the greatest midfielders in the World, playing since six years at Real Madrid CF and ten years with the German National Team, FIFA World Champion 2014. He was crowned this same year 2014 by IFFHS THE WORLD'S BEST PLAYMAKER, his most important individual Award.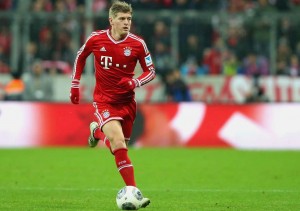 Kroos began to play football in his hometown before a first transfer to Hansa Rostock and a moving in 2006 to FC Bayern München's Youth. He was nominated in the U17 National Team of Germany and won in 2006 the UEFA U17 Golden Player Award, also in 2007 the FIFA U17 Golden Ball (17 goals in 34 matches in these two years). It was not a surprise to see Toni Kroos make his debut at age 17 with Bayern München in 2007. He was sparingly used and opted for a loan at Bayer Leverkusen (2009/10) where he played 43 matches (10 goals) to become a key player in the team.
He returned to his parent club in 2010 and became the class player with vision, creativity and passing ability. Until 2014, he played in total 205 matches with FC Bayern München (25 goals), winning 3 Bundesliga titles (2007/08, 2012/13, 2013/14), 2 DFB Cups (2012/13, 2013/14), one DFL Supercup (2012) , his first UEFA Champions League title ( 2012/13), the UEFA Super Cup (2013) and the FIFA Club World Cup (2013). Nominated in the Bundesliga Team each year, he was widely considered as a great Midfielder and accepted a new challenge ,moving to Spain and Real Madrid CF in 2014.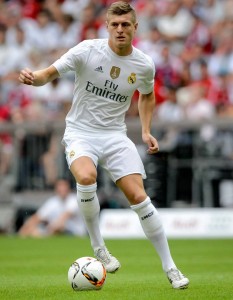 With Real Madrid, Toni Kroos was a key player of the teams managed by Carlo Ancelotti and Zinedine Zidane. He won until now one La Liga title (2016/17), one Supercopa de Espana (2017), 2 UEFA Super Cups (2014, 2017) but especially 3 UEFA Champions League consecutive titles (2015/16, 2016/17, 2017/18) and 4 FIFA Club World Cups (2014, 2016, 2017, 2018) ! He played 254 matches (16 goals) with Real Madrid and was voted many times in the Teams of the Year (UEFA, FIFA, IFFHS). At 30, he has not finished to collect titles and Awards.
After his successful youth international career with Germany's National Team, Toni Kroos made his senior debut in 2010 at 20, scoring already his first goal in 2011. Since this time, he played 96 matches (17 goals) with Germany and became a key Player in the team. He led his team to the victory in the FIFA World Cup 2014 in Brazil, winning the same year his most important individual Award : THE WORLD'S BEST PLAYMAKER 2014 by IFFHS.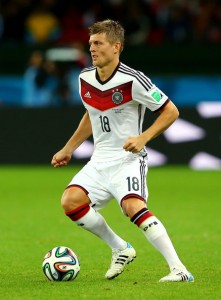 He was also part of the German Team, third at the FIFA World Cup 2010 in South Africa and third at the UEFA Euro 2012. He participated at all major tournaments (FIFA World Cup 2010, 2014, 2018 and UEFA Euro 2012, 2016) with Germany. In 2020, he will play his third UEFA Euro and two years later his fourth FIFA World Cup in Qatar.