---
Posted on Jan 24, 2020 | IFFHS News Category
---
Picture : Almuth Schult received her IFFHS Award in Wolfsburg.
IFFHS AWARDS – THE WORLD'S BEST WOMAN GOALKEEPER 2014 (joint with Hope SOLO) : ALMUTH SCHULT (GERMANY/VFL WOLFSBURG)
Presentation
Almuth Schult, born 9 February 1991 in Dannenberg, is the currently Goalkeeper n°1 in Germany and at VFL Wolfsburg since many years.
The German girl began her career in Gartow before staying two years in Hamburg with the HSV club. She joined Magdeburger FFC in 2008 at 17 and realized a great season, winning the Championship the next year to acceed in the Second Bundesliga in Germany.
She was transferred to SC07 Bad Neuenahr in the Bundesliga Elite in 2011 and played there 43 matches, becoming international player with Germany's U19, U20 and U23 (22 caps with youth teams). She won the FIFA U20 World Cup in 2010 after the bronze medal in 2008 at the FIFA U17 World Cup. Her performances allowed her to be nominated in the German National Squad for the FIFA World Cup 2011 in Germany ! She didn't play but made her begin in the German National Team the 15 February 2012 against Turkey. She played 66 international matches with Germany until now, winning the Algarve Cup 2012 and 2014 and especially the Gold Medal with the German Team at the UEFA Euro 2013 and the Olympic Games 2016 ! She was ranked at the 4th place with the German National Team at the FIFA World Cup 2015.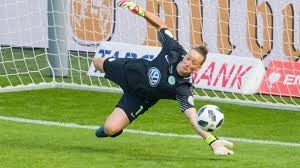 In June 2013, Almuth Schult, 22 years old, signed a contract with VFL Wolfsburg where she played already 116 matches, winning one UEFA Champions League (2014), 4 German Bundesliga titles (2013/14, 2016/17, 2017/18, 2018/19), 5 German DFB Cups (2014/15, 2015/16, 2016/17, 2017/18, 2018/19) !
In 2014, she was named by IFFHS – THE WORLD'S BEST WOMAN GOALKEEPER equally-ranked with Hope Solo (USA), winning the UEFA Champions League, the German Bundesliga and the Algarve Cup in the same year.