---
Posted on Jan 26, 2020 | IFFHS News Category
---
Picture : A new Record for Sergio Ramos ?
PASSARELLA BEFORE RAMOS
With 22 goals, Defender Daniel Passarella, World Cup winner 1978 and 1986 with Argentina, holds always the record of the most international goals scored by a defender in country matches ! One Player, Spain's captain Sergio Ramos, is the only one to be able in the next weeks to beat this record. He has scored 21 goals until now , the Record is coming soon …
With 64 goals in the LIGA of Spain, he is also only 3 goals behind the record of Ronald Koeman for the Spanish Liga Defender Best Scorers !
58 YEARS AFTER BURNLEY REPEAT HISTORY
Burnley defeated Manchester United Wednesday night at the latter's base at Old Trafford 2-0 to bask again in the glory of their 1962 exploit when they had prevailed over the hosts 5-2 on September 22 that year. Two goals, at the 39th minute by Chris Wood, and then at the 56th minute by Jay Rodriguez landed the 13th-ranked team's victory on the night.
Manager Sean Dyche celebrated his team's victory, "this result means everything … we worked hard and we showed quality," contrasting sharply with Ole Gunnar Solskjaer's lamentation, "we can't do anything other than hold our hands up and say this isn't good enough for the club."
With that victory, Burnley are hemmed in by Everton and Newcastle with the trinity on 30 points, 4 places behind Manchester United.
————————————————————————————————————
ESPERANCE TUNIS , SOON A NEW RECORD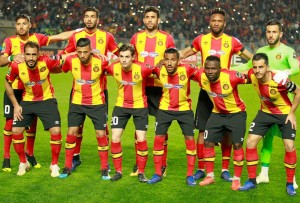 Esperance Tunis (picture), ranked 19 in the CLUB WORLD RANKING 2019, has played a 20th CAF Champions League match without defeat last week. The Tunisian club is able to beat his own record of 21 (2011-2012) in the next month ! The match against Raja was the 85th between Tunisian and Morocco clubs in the Continental competitions and only the third to finish with a draw 2-2 !
———————————————————————————————————–
AWARD FOR BEMBEM DEVI
Bembem Devi the former Indian women's team captain will be conferred the Padma Shri Award, the 4th most important distinction given by the Government of India. She will be the 7th footballer and first woman player to receive this honour for her great contribution for the sport and particularly the football.
————————————————————————————————————-
NEW RECORD FOR HAALAND
Since one year, Norwegian young player Erling Braut Haaland trusted all records in the World Football. At 19, he has scored since the beginning of the season 33 goals in 24 official matches with RB Salzburg and his new club Borussia Dortmund. His last record : he has played his two first matches with Borussia Dortmund in the German Bundesliga (he signed there before three weeks) and as substitute came into play exactly 57 minutes in the two matches to score 5 goals (3 against Augsburg in 34 minutes and 2 against Köln in 23 minutes) ! A new record in the Bundesliga !
————————————————————————————————————-
18 MATILDA'S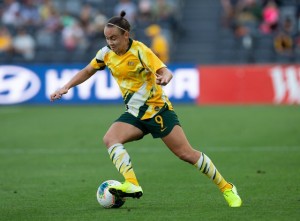 With Caitlin Foord (picture), signing with FC Arsenal in England, it could be the 18th Australian Matilda to play in the UEFA Women's Champions League. Samantha Kerr signed with FC Chelsea before some weeks, Australia's woman football continue to grow (number 7 in the World at the last ranking in December).
————————————————————————————————————–
INTERNATIONAL COUNTRY GOALS RECORD
Ali Daei, Iran's Goalgetter, holds always the World Record of goals scored with his country in international matches (109 goals). Behind him, Cristiano Ronaldo has already scored 99 goals with Portugal and is able to beat this Record this Year. In 2019, he scored 14 goals with Portugal. In 2020, the UEFA Euro can help him to realise the Record and also to become the FIRST PLAYER ever to appear in 5 UEFA Euro's !