---
Posted on Feb 1, 2020 | IFFHS News Category
---
IFFHS AWARDS – THE WORLD'S BEST TOP GOAL SCORER 2015 : ROBERT LEWANDOWSKI (POLAND/FC BAYERN MÜNCHEN)
PRESENTATION
Robert Lewandowski, born 21 August 1988 in Warsaw, is currently the captain of the Poland National Team and the Top Goal Scorer of FC Bayern München, being widely regarded as one of the best strikers in the World.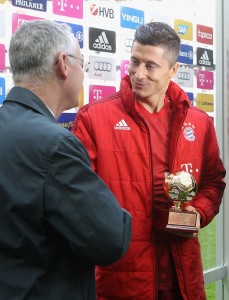 Robert Lewandowski received the Award in München.
He began to play football in Warsaw before signing his first contract with Znicz Pruszkow (2006 to 2008) in the Polish League. 36 goals in 59 games and two titles of Liga Top Goal Scorer let him move to the Top Club in Poland, Lech Poznan in 2008. He won there his first team titles, the Poland Ekstraklasa 2009/10, the Polish Cup 2008/09 and the Polish Supercup 2009 (32 goals in 58 matches) with a new Top Goal Scorer Award in Poland's Liga. Also voted Best Player , Robert Lewandowski was transferred in 2010 to Borussia Dortmund in the Bundesliga in Germany.
He stayed four seasons in Dortmund, played 187 matches and scored 103 goals (74 goals in the Bundesliga in 131 games). He won two Bundesliga titles (2010/11, 2011/12), one DFB Cup (2011/12), one DFL Supercup 2013 and was runner-up at the UEFA Champions League Final 2012/13 against FC Bayern München. He was Bundesliga Top goal Scorer 2013/14 and second Goal Scorer in UEFA Champions League.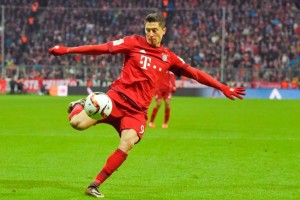 Lewandowski and FC Bayern
In June 2014, Lewandowski joined Dortmund's rival, FC Bayern München. He won there the Bundesliga title in each of his first five seasons (2014/15, 2015/16, 2016/17, 2017/18, 2018/19) and 3 Bundesliga Top Goal Scorer Awards (2016, 2018, 2019), 2 DFB Cups (2015/16, 2018/19), 3 DFL Supercups (2016, 2017, 2018). Until now, he played 175 Bundesliga matches with FC Bayern, scoring 149 goals and in total (Bundesliga,Cup, Champions League), Robert Lewandowski has scored 223 goals in 269 games !
International with Poland since 2008, he has earned 112 caps and scored 61 goals, the all-time Record in Poland. He participated at the UEFA Euro 2012 and 2016, also at the FIFA World Cup 2018, becoming the captain of the Polish National Team. His next steps : the UEFA Euro 2020 and the FIFA World Cup 2022 !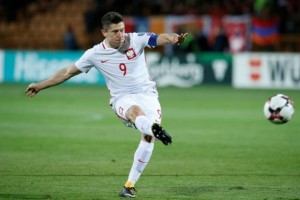 Lewandowski and Poland National Team
He was voted each time Polish Footballer of the Year since 2011, Best Bundesliga Player 2016/17, best UEFA Player 2016 and appeared in many Teams of the year (Bundesliga, UEFA, FIFPRO, IFFHS). He was crowned by IFFHS THE WORLD'S BEST TOP GOAL SCORER 2015, FIFA World Cup Qualification Top Goal Scorer 2018 and UEFA Euro Qualification Top Goal Scorer 2016 ! His Goal Scorer qualities brought him to become the fifth best Goal Scorer in the History of the UEFA Champions League (63 goals) and the Bundesliga all-time leading foreign Goal Scorer (223 goals). He holds many Goal Records, especially the fastest five goals haul in a major European Football League after scoring five times in nine minutes with FC Bayern against VFL Wolfsburg.