---
Posted on Feb 1, 2020 | IFFHS News Category
---
Picture : Nadine Kessler received her IFFHS Trophy 2014 in Wolfsburg.
IFFHS AWARDS – THE WORLD'S BEST WOMAN PLAYMAKER 2014 : NADINE KESSLER (GERMANY/VFL WOLFSBURG)
PRESENTATION
Nadine Kessler, born 4 April 1988 in Landstuhl, is currently the Head of UEFA's Women Football after being a German international Player with great success, especially the winning of the 3 most important World Awards in the same year 2014 : the FIFA Woman Ballon D'Or of the Year , the UEFA Woman Player of the Year and the IFFHS World's Best Woman Playmaker of the Year !
Captain of VFL Wolfsburg
As youth, she played with boys clubs before beginning her career at 16 in the female team of 1 FC Saarbrücken in the German Second Division. She scored there 37 goals in 52 matches until 2009, winning the 2.Bundesliga titles in 2006/07 and 2008/09 and reaching the German DFB Cup final in 2007/08.
Nadine Kessler signed with 1FFC Turbine Potsdam in 2009, where she played two seasons and won 2 Bundesliga titles (2009/10, 2010/11) and especially for the first time the UEFA Champions League 2009/10 ! 19 goals in 34 matches : Nadine Kessler was one of the most effective players of the team at 21 !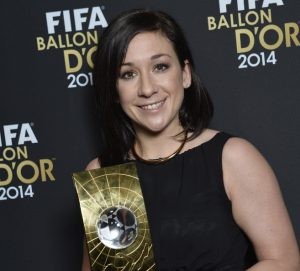 FIFA BALLON D'OR 2014
In 2011, she moved to VFL Wolfsburg and made History with the club ! During 3 seasons, she won all titles, Bundesliga (2012/13, 2013/14), DFB Cup (2012/13, 2014/14) and especially the most important titles : the UEFA Champions League 2012/13 and 2013/14 ! She was the captain of the team 2013/14, the heart of the team with Lena Goessling, and she led her club to beat Olympique Lyonnais in the Final. She scored 31 goals in 58 matches during the 3 years and was crowned by UEFA, FIFA and IFFHS in 2014 to THE WORLD'S BEST PLAYER AND PLAYMAKER !
She was nominated in Germany's National Teams U15, U17 (third place at FIFA World Cup), U19 (Winner UEFA Euro 2006 and 2007) and U20 (50 caps in total, 16 goals) before her nomination in the A National Team in 2010. Until 2016, she was capped 29 times and scored 10 goals, winning the UEFA Euro Championship 2013 . Nadine Kessler was on the Top of the Woman World Football in the years 2013 and 2014, but a serious injury forced Nadine Kessler to announce her retirement in April 2016 at 28.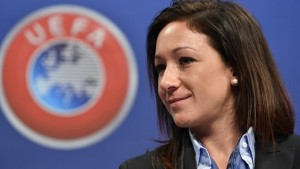 UEFA WOMAN HEAD OF FOOTBALL
Holder of a Bachelor of Arts in Health Economics , she was nominated Head of Women's Football Development at the UEFA in 2017 and led the project : UEFA Women's Football Strategy 2019-24 to create a step change in football for women.