---
Posted on Feb 4, 2020 | IFFHS News Category
---
Picture : World Record for Christine Sinclair (185 international goals) !
CHRISTINE SINCLAIR IN FOOTBALL HISTORY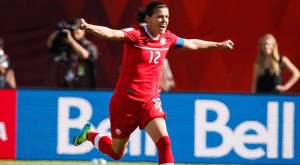 The captain of Canada Women's National Team, Christine Sinclair has reached the highest number of international goals of 185 scored by any footballer, male or female. She reached that number last night when she scored a brace against Saint-Kitts-and-Nevis in the kicker to the CONCACAF Olympics Qualifiers, thereby surpassing the former record kept by the retired American, Amy Wambach.
The 36-years-old Sinclair who simply described her performance as one she had never dreamt to attain opened her international scoring accounts at the age of 16 two decades ago and was scoring against her 41st country last night in 290 matches, 34 more than Wambach who retired in 2015.
Christine Sinclair has broken the World Record of Abby Wambach (USA) – 184 goals in 256 matches. Mia Hamm (USA) completed the podium with 158 goals in 275 matches.
Abby Wambach keeps the ranking number 1 in the Goal efficient ratio ( 0,72) before Marta (Brazil) (ratio : 0,70 with 107 goals in 151 games) ,Christine Sinclair (0,64) and Alex Morgan (USA) at the fourth place (0,63 – 107 goals in 169 matches).
——————————————————————————————————————————————-
MESSI 500
Lionel Messi has scored last week two goals against Leganes and became THE FIRST PLAYER IN SPANISH FOOTBALL HISTORY to win 500 matches ! He has played 710 matches (500 victories, 131 draws, 79 defeats) and scored 622 goals to reach the 500 victories with one team ; FC Barcelona !
—————————————————————————————————————————————–
BALA NGANGOM NEW HORIZON
Ngangom Bala Devi, 29 year old Indian forward from North Eastern state Manipur, wrote a new history as the first ever Indian / Asian woman signing for Scotish Women's premier league club Rangers FC. It's the only third occasion, indian women players got an overseas contract. Bala devi began her football with boys and her scoring skills gain attention from state and national selectors. Soon she got India's bleed blue jersey. Since 2005 Bala scored 52 goals in 58 games for India. Also she captained Indian team in 2016 SAFF women's championship and lead them to victory. Her performance in SAFF & SAG tournaments got widely praised and AIFF awarded player of the year award in 2014 and 2015.
Bala Devi played most of her career as a semi professional footballer. She also worked as police women in Manipur police department. In inaugural Indian Women's League she represented Manipur police sports club and later that season with Eastern Sporting Union. Next season she tried her luck with KRYPHSA FC and again went back to her home club Manipur police in 3rd season. At the end of 2019 Bala Devi announced her 1 week trail in scotish league 4th placed club and in 2020 indian women's football fans got most awaited news from Rangers FC. Bala Devi signed 19 months professional contract with scotland club and become the first professional footballer from India.
————————————————————————————————————————–
JUNINHO'S RECORD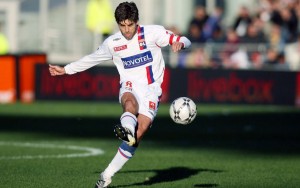 Juninho Pernambucano , retired in 2013 after a great career in Lyon and Brazil, is always the World Recordman of the FREE KICK SCORERS ! The Brazilian has scored 77 goals with free kick and leads the ranking before Pele (70), Ronaldinho (66), Victor Legrottaglie (66), David Beckham (65), Diego Maradona (62), Zico (62), Ronald Koeman (60) and Rogerio Ceni (59), the fantastic Goalkeeper of Sao Paulo !
Cristiano Ronaldo (54) and Lionel Messi (52) took places 12 and 13 in the Ranking, but are the only to can progress in the next months !
—————————————————————————————————————————-
JACKIE GROENEN AMBASSADOR OF THE CRUYFF FOUNDATION
Jackie Groenen has always used the number 14 in honour of her idol Johan Cruyff. Last week, she became an Ambassador of the Cruyff Foundation ! The Midfielder of FC Manchester United and the Netherlands Women National team is one of the best dutch players in the history. She has already 58 international caps with Netherlands (UEFA Euro Winner 2017 and FIFA World Cup Runner-Up 2019) and has international experience in Germany (Essen, Duisburg, Frankfurt) and in England (Chelsea, Manchester United).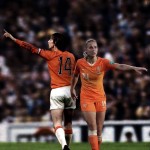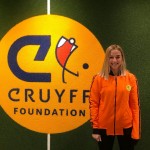 —————————————————————————————————————————————
DEVELOPMENT PROGRAMME
FIFA's Chief of Global Football Development Arsène Wenger has announced the launch of a talent development programme that will enable member associations to optimise their technical structures, establish long-term scouting schemes and, ultimately, reduce the gap at the top of the game.
"We are launching the FIFA Talent Development Programme to ensure that every talent gets a chance. " said Wenger during a five-day FIFA Technical Development Workshop in Doha with the participation of over 100 experts from confederations and member associations.
"The difference in the level of play between Europe and the rest of the world has become bigger. In many countries, the focus of the association is mainly on the senior national team, but this national team is always the consequence of football development across the country. We need more youth competitions to identify talent, offer them a pathway and develop coaching," added Wenger.
Through FIFA's new Talent Development Programme, from this year, all 211 member associations will be entitled to benefit from a FIFA assessment of the various areas of their high-performance ecosystem in both men's and women's football, including all national teams, domestic leagues, scouting projects and academies.
—————————————————————————————————————————————–
RONALDO ALSO
——————————————————————————————————————————————
PROJECT AFRICAN FOOTBALL TO THE TOP OF THE WORLD
The FIFA seminar, held in Rabat, Morocco, was attended by the Presidents of FIFA and CAF, delegates from each of CAF's 54 member associations, African football legends, representatives from the international banking and investment industries and the media.
In his address to delegates, the FIFA President underlined his belief in the immense potential for positive growth and expansion of African football. "Our objective must be to project African football to the top of the world," he said. "We have been talking about the development of African football for many years. Pelé once said that an African team would win the FIFA World Cup, but this hasn't happened and it seems we are not making progress. Today must be the day we turn that page."
The FIFA President then unveiled a joint FIFA/CAF strategy for the elevation of African football focused on three key pillars: Refereeing (Professional contracts for 20 Referees), investment mobilisation (infrastructures, stadium) and competition development ( creation of a world nations league for women's football, more frequent youth world championships and creation of a new pan-African club competition). The FIFA President : "Let us show the world what we can do. This day is special it's the start of a new chapter for African football."
—————————————————————————————————————————————–
MALDINI THIRD GENERATION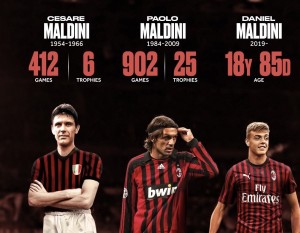 ———————————————————————————————————————————————
LIVERPOOL FC SCORES WIDEST LEAD EVER AT TOP OF PREMIER LEAGUE.
Liverpool Football Club have registered the widest lead ever at the top of the English Premier League following their 4-0 defeat of visiting Southampton. The score landed them a 22-point lead with runners-up, Manchester City .Egyptian international, Mohamed Salah scored a brace, while Jordan Henderson, and Alex Oxlade-Chamberlain scored one each as Liverpool also equal the 20-match consecutive home wins kept until Saturday by Manchester City.
Manager, Jurgen Klopp who expressed joy and satisfaction with the performance of his team at the end of the match and who is certainly resolutely determined to maintain the momentum for the skies as Liverpool are now unbeaten in 42 games, said the emphasis had not been on a 22-point lead but for the victory on the day, now tallying 100 out of the last available 102 points. The current show of invincibility at home by Liverpool is only surpassed by the 1972 generation bossed then by Bill Shankly.