---
Posted on Feb 4, 2020 | IFFHS News Category
---
IFFHS AWARDS – THE WORLD'S BEST WOMAN REFEREE 2015 : KATERYNA MONZUL (UKRAINE)
PRESENTATION
Kateryna Volodymyrivna Monzul, born 5 July 1981 in Kharkiv, is currently a FIFA listed Ukrainian Referee, who has won in 2015 the IFFHS Award of THE WORLD'S BEST WOMAN REFEREE .
Monzul began her referee career at 23 in 2004 when she was FIFA listed ! With a degree in architecture, she impressed quickly and took in charge her first international match in 2005 between Finland and Poland for the FIFA World Cup Qualifiers 2007. She refereed her first final tournament at the UEFA Euro 2009 , becoming in 2011 Referee in the Ukrainian First League. At the FIFA World Cup 2011, she directed 4 qualifying matches, before marking her first great performance in a major nations tournament's final stage at the UEFA Euro 2013. She leaded the semi final match between Norway and Denmark.
In 2014, she was nominated to referee the UEFA Women's Champions League final between Wolfsburg and Tyresö in Lisbon and was ranked second in the IFFHS World's Best Woman Referee behind German Bibiana Steinhaus. The next year, Monzul refereed the opening match of the FIFA Women World Cup 2015 between Canada and China and also the final on 5 July (her birthday) between USA and Japan ! This performance allowed her to win the 2015 IFFHS Award of THE WORLD'S BEST WOMAN REFEREE.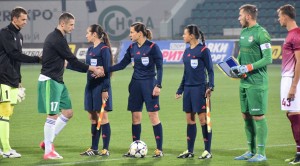 With her international reputation established, this year 2016, Monzul has also taken a more prominent role in local football. In March, Monzul became the first woman member of the Executive Committee of the FFU and she was officially announced as the referee for the Volyn vs Chornomorets match. On April 3, Monzul became the first woman referee (picture) to lead the teams out in a Ukrainian Men Premier League match .
Kateryna Monzul continued her career with all Women competitions (the UEFA Champions League matches, the UEFA Euro 2017 and the FIFA World Cup 2019) ,and is also ranked each year in the World's Top 10 of the Women Referees since 2013 !