---
Posted on Feb 9, 2020 | IFFHS News Category
---
Picture : Katalin Kulcsar received the IFFHS Trophy in Basel.
IFFHS AWARDS – THE WORLD'S BEST WOMAN REFEREE 2016 : KATALIN KULCSAR (HUNGARY)
PRESENTATION
Katalin Anna Kulcsar, born 7 December 1984 in Györ, is a Hungarian Referee FIFA listed since 2004 and ranked in the World's Top 10 since many years, winning in 2016 the IFFHS Award of THE WORLD'S BEST WOMAN REFEREE of the year !
She began early her Referee career to be FIFA listed at 19, taking in charge her first international match in September 2004, Malta against Bosnia-Herzegovina ! She reached the Man Top Division in Hungary, the Nemzeti Bajnoksag, in 2011 at 26 with the match BFC Siofik – Honved !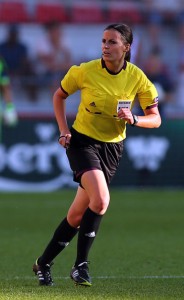 Katalin refereed her first final at the 2009 UEFA Women's Under 17 Championship. She was nominated to referee at the UEFA Euro 2013 (3 matches) and the UEFA Euro 2017 (4 matches). At the FIFA World Cup 2015 in Canada, she directed two games before taking in charge 3 games at the FIFA World Cup 2019 in France.
She had her consecration in 2016, when she was appointed to referee the UEFA Women's Champions League final between Olympique Lyon and VFL Wolfsburg in Reggio, Italy. The same year, she was voted by IFFHS to THE WORLD'S BEST WOMAN REFEREE 2016 !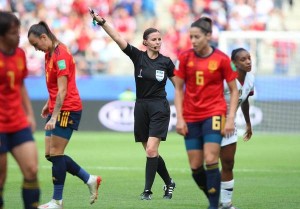 Katalin Kulcsar officiated 21 UEFA Women's Champions League matches between 2011 and 2019, having the pleasure to whistle 8 matches of the World's Best Woman Club Team, Olympique Lyonnais, crowned since 5 years by IFFHS. She continued also in the Men Top Division in Hungary (22 matches) and in the international competitions, being always in the best Referees of the World since more than 10 years. And Katalin is only 35…